No one likes to think about disasters, but they happen here just like in every other part of the world.
The question is: are you prepared to survive them?
MAKE A PLAN
Have a plan for what you and your family will do in an emergency. Consider how you will communicate with each other, where you will meet, and who you can leave messages with out-of-state if you can't reach people locally.
BUILD A KIT
After you have your plan, start building a kit. The basics include enough food and water to last five to seven days. Then, think about other needs. Make a list of the things you use every day. Don't worry about buying everything at once.
STAY INFORMED
Stay informed to know when disasters are going to strike. Keep up with information from your local government leaders and media. If the Emergency Alert System is activated, tune to 740 AM or 88.7 FM to receive emergency messages.
KNOW YOUR NEIGHBORS
Help your community and get to know your neighbors. Disasters shouldn't be the only time our communities come together. Make the time now to get to know your neighbors so you're ready to help each other when disaster strikes.
This website provides emergency preparedness information for a five-county region in Southeast Texas. The represented jurisdictions include Brazoria, Fort Bend, Galveston, Harris, and Montgomery Counties, as well as the Cities of Galveston, Houston, LaPorte, and Pasadena.
This site is designed to provide quick access to local and national information on disaster preparedness. The Ready Houston program has produced videos on a variety of topics related to emergency preparedness. Local agencies provide training that helps citizens prepare. And our partners are also a valuable source of information.
The program is a localized version of FEMA's Ready.gov program. The goal of Ready Houston is to tailor emergency preparedness messages to the unique hazards faced in the greater Houston region.
Join the Houston Community Preparedness Collaborative
to learn more about how to prepare your family in an emergency.
Order a DVD
A DVD containing a variety of videos is available to prepare you and your family on how to respond to and recover from the effects of any disaster.
Order your free copy of the DVD now!
Already watched the video? Give us your feedback. Your input will help us serve our residents better. Please consider participating in a brief survey.
While weather-related disasters aren't our only concern, it's good to stay informed of the latest weather patterns and expected rainfall. View the live Doppler radar for our region here.
Join the Houston Community Preparedness Collaborative
in participating in these local events and learn more about how to prepare your family in an emergency.
5th Annual Ready Houston Preparedness
Kit Chef's Challenge
The City of Houston invites you to the 5th Annual Ready Houston Preparedness Kit Chef's Challenge. Celebrity chefs will compete on-site to create the best dish from non-perishable food items typically found in a disaster preparedness kit. Each chef will choose from a list of canned and shelfstable ingredients.
2018 Extreme Weather Ready Expo
The annual Houston/Galveston Extreme Weather Ready Expo aims to prepare residents for extreme weather situations through presentations, interactive exhibits, weather forecasting and more. This free event is family-friendly and open to the public. The expo is the largest of its kind in the nation with more than 2,500 attendees each year.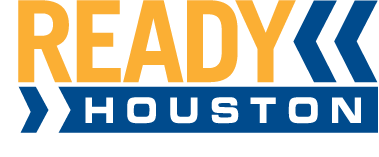 REGIONAL DISASTER PREPAREDNESS