Ready Houston is enlisting support from local schools and educators to help ensure our region's young people feel safe and their families are prepared in case of a disaster. The Disaster Preparedness Program contains lessons which reinforce the core message of:
The primary learning methodology for the Disaster Preparedness lessons is instructor-led classroom. Each lesson consists of a brief presentation or large-group discussion and small group or individual activities. There are four different track options varying in involvement so you can determine which option best meets the needs and capabilities of your students. Each track consists of five to six mini-lessons of approximately 20 minutes each offering you flexibility to incorporate the unit into your schedule. An instructor guide and participant materials are available to support the lessons.
The target audience for these lessons is middle school students from all socioeconomic levels. At the end of the lessons, students will be able to:
Identify the different types of disasters.
Identify emergency personnel and their contact information for each type of disaster.
Describe the disaster preparedness process.
Recognize the components of a good disaster plan.
Identify items that should be included in a "Go Bag" emergency kit and a "Stay-at-Home" emergency kit.
Identify how to gain access to emergency information during a disaster.
Describe how to adjust the disaster plan and emergency kit based on emergency information obtained.
Recognize the importance of knowing your neighbors and having a neighborhood emergency plan.
Identify the components of a good neighborhood emergency plan.
Given a disaster preparedness topic, create a presentation to share with large group.
All the materials are available at no cost. Get started by downloading materials here.
If you have any questions, please contact us at ready.houston@houstontx.gov.
Emergency Plan Checklist
Sit down together and decide how you will get in contact with each other, where you will go, and what you will do in an emergency.
Disaster Preparedness Guide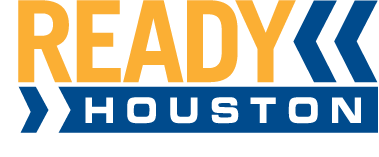 REGIONAL DISASTER PREPAREDNESS