To further extend the reach of our School Ready program, a traveling children's show featuring our Ready Super Heroes is available at NO COST. Mac Planner, Kit Builder and Stu entertain and educate with a 12-minute performance including an original song at the end.
Watch the filmed performance below. This file can also be downloaded in MP4 format here. The performance is also available in high-definition quality on DVD. To request your own DVD copy, click here. Allow up to three weeks for delivery.
If your group is large enough, such as a school-wide assembly, you can have the Ready Super Heroes come to your school. Request an appearance by clicking here.
The performance includes an original song at the end. Click below to download an MP3 of the song:
  "Are You Ready" Song (MP3, 476 KB)
If you have any questions, please contact us at ready.houston@houstontx.gov.
Emergency Plan Checklist
Sit down together and decide how you will get in contact with each other, where you will go, and what you will do in an emergency.
Disaster Preparedness Guide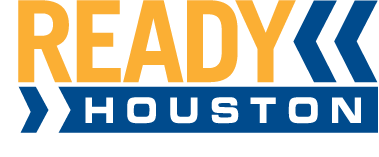 REGIONAL DISASTER PREPAREDNESS