If you stay informed, you'll know when disasters are going to strike.
Be sure to keep up with information from your local government leaders and media. If the Emergency Alert System is activated, tune to 740 AM or 88.7 FM to receive emergency messages. And many jurisdictions offer text message or email notifications. But don't just rely on one source — stay informed by using multiple sources of information.
Another way to stay informed is to have a NOAA Tone-Alert Radio (with a battery backup). The NOAA radio, also called a weather radio, is programmed to listen to National Weather Service forecast broadcasts and sound an alarm is severe weather is predicted for your area. NOAA Weather Radios are also available with strobe lights and other non-audible alert methods for people who are deaf or hard-of-hearing.
When to call 911
When you are in immediate danger or witness a crime in progress.
For a serious injury or medical condition.
Any other situation needing urgent attention.
Do NOT call 911 for non-emergencies or to report a power outage (power outages may be urgent but phone lines need to be kept open for emergency calls).
When to call 211
If you don't have access to transportation, then you should pre-register for transportation assistance.
By registering now, if an evacuation order is issued for your area, emergency management personnel will contact you to schedule your transportation.
If you wait until disaster strikes, it will likely be too late to get special help.
Renew or update your information/status each year.
When to call 311
Call 311 when you have a non-emergency question.
A city representative will answer your call 24/7.
During disasters, wait time may be longer to have your call answered.
Do not call to report an emergency.
If outside city limits, call 713-837-0311.
EMAIL & SMS ALERTS
Links to emergency notification systems for the five-county Houston region are provided in our Email & SMS Alerts section.
Disaster Preparedness Guide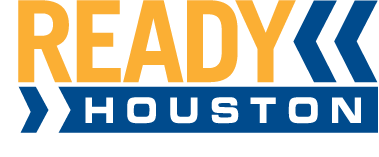 REGIONAL DISASTER PREPAREDNESS